Lost Memories
(失われた記憶 Ushinawareta Kioku)
Episode Summary
Placeholder Summary
Ep 30 starts with flashbacks to the face twin shenanigans
Ryou grabs Kenzaki's leg and clings to it while flipping a shit
Snake FINALLY gets that WHOOPS not Joker and buggers off.
Meanwhile Hajime winds up at the docks too late and confused
"I felt as if someone was calling me…"
Kotaro tries to find out why "Hajime" ran from the fight. At the same restaurant where Michi's trying to find out why "Ryou" ran from the wedding.
"Undead?" O.O
Ryou is starting to regret this swap and tries to come clean.
Buuut Kenzaki somehow thinks Hajime's making an excuse cause he's afraid of fighting for reasons.
Amane is still upset and doesn't want that Hajime back ever.
Hajime is asked to make Takoyaki and somehow manages by just reacting to things being shoved at him.
Ryou pulls Hajime to the side and tries to swap back.
Hajime is a bit crushed to find out that he's hated. Seems to get back a bit of his memory, but rejects it because he doesn't want it.
Michi spots the twins together and chews out Ryou and decides she likes Hajime better and hauls him off
Oh hey, Snake Undead is still around how about that.
Ryou's dad attempts to tell which is which and picks wrong.
Challenge from Taiyaki group! Hajime will fight and win!!!
Package from Tibet! Tachibana gets power up! Aaas soon as he gets a Queen. But hey! Snake!
Tachibana is still worried about Mutsuki. Can't even be happy about his powerup.
TAIYAKI VS TAKOYAKI
All these keywords making Hajime's memory do a thing, how convenient~
Taiyaki master, Ultimate Form!
Snake shows up and breaks up the competition. It takes a few hits to wake Hajime's memory.
"What have I been doing?"
Kenzaki and Tachibana are heading to the fight, but get caught up fighting the Queen's flunky.
Ryou aids the battle with a Taiyaki pan to Snake's face.
Having had quite enough of this shit, Hajime gets with the asskicking.
And then runs the queen over to Tachibana. For reasons.
Tachibana JACK FORM
and flunky is sealed.
"If you become stronger, and I fight you. I'll become stronger as well."
Hajime returns to Jacaranda and is rude to Kotaro.
"I have no friends" is Amane's cue to run and hug HER Hajime.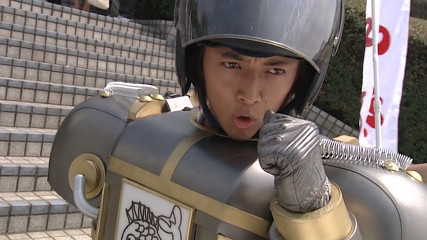 Episode Available from:
---
Major/Named characters introduced:
Undead Apperances: Major events:
Screencaps