Sprint of Betrayal
(裏切りの疾走 Uragiri no Shissō)
Episode Summary
PLACEHOLDER SUMMARY
Double transform!
GET OFF THAT MACHINE, UNDEAD!!!
Machine is powering up the Undead
Tachibana's cool moment interupted by zombie wolves
Wolf Undead rides off, Kenzaki and Tachibana in pursuit
Orchid running away into the daylight
Tries to make excuses to Elephant
"I will be the last one to survive!"
Kotaro falls out of bed
Going to send Hajime after Miyuki
Having a moment about Hajime
SHOWDOWN OF RIDER MACHINE
Black Fang can emit an EMP wave
"First I will eliminate the other Undead!!!"
"Don't get on my way!!"
The green wave also reflects attacks
Kenzaki swears to get back "our machine"
"After everyone else is dead, I'll be the winner"
Hajime interrupts before Elephant can finish off Orchid
"I will not fight someone without knowing the scope of their power"
Orchid collapses, just in time for Kotaro to spot her
Goes to report, just can't.
Kinda freezes up when seeing her green blood
Kenzaki is piiiiisssed at Black Fang beig missused
"Ore-tachi no Fang…."
Miyuki wakes up in Kotaro's car
"Why did you save me"
"I don't know!!!"
"I'm not human"
"I KNOW DAMN IT, I KNOW"
Shinmei somehow has Black Fang back!
"Let's remake BOARD… for justice"
Shinmei is bad at playing human and goes to attack.
"In order to complete Fang you USED us"
"You really believed BOARD would be rebuilt? I just wanted to finish what I stole"
Shoots Shinmei with his own weapon.
"Do Undead that are affected by Gunfire even exist?"
Kenzaki takes responsibility
"I felt like we had returned to when BOARD still existed"
Tachibana flashes back to getting Red Rhombus
"This is research for the protection of humanity's future"
"but we can't go back in time… But I feel like the ideals from that time returned, when I saw Fang…"
"BOARD is gone.. but my companions are still here"
Miyuki goes to kill Kotaro. Can't.
"I'd forgotten… with all the fighting.. that such beauty exists."
"Can you promise me you won't attack humans any more?"
"You want to believe me? An Undead?"
KOs Kotaro when she sees Hajime approach
MEANWHILE AT THE RACES
RANDOMLY BLACK FANG BECAUSE SURE WHY NOT
Shockwaves them off the course
SLIPSTREAM DEMO
SMOKE MACHINES ARE WHAT THE PEOPLE WANT
TIME TO MACH IT UP
Tachibana having flashbacks as he readies to destroy Fang
TIME TO KICK THE WOLF'S ASS
DOUBLE RIDER KICK
Wolf is sealed
Kotaro tries to stop Hajime from sealing Orchid... Fails
SUDDENLY IT RAINS
"You really are an Undead"
"Why did you save this woman?"
"I wanted to believe. If I could believe her, I could believe you"
"I think you're a good guy, but… I can't like you"
Watching Fang burn
"Keep defeating Undead for me, because I hate to fight."
SURPRISE, THEY ATTACK HIM.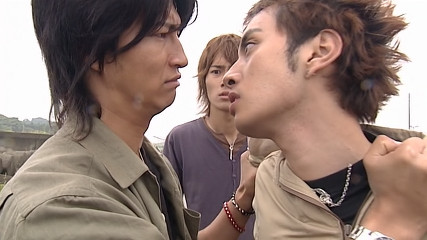 Episode Available from:
---
Major/Named characters introduced:
Undead Apperances: Major events:
Screencaps