Secret of the Destroyer
(破壊者の秘密 Hakaisha no Himitsu)
Episode Summary
Placeholder Summary
Ep 32 opens with the failed sealing
The fight resumes! But Tachibana comes to the rescue!
The "Undead" recognizes Garren and buggers off.
Kenzaki tells Tachibana about King
meanwhile back where Hajime's being held, he attempts to escape, but keeps getting time frozen.
King has taken all his cards but the 2 and tells Hajime to give it up.
"I want to see… your original form"
Tachibana fills everyone in on what Mutsuki told him
Pointing out that he uses another card to turn human
Realization that the Human Undead has been sealed.
Tachibana tells Kenzaki not to do anything or try and save Hajime until he finds more information on Joker.
Meanwhile, Hajime's getting beaten up.
King tells him he wants to mess up the battle using Joker
Threatens to send the video of Hajime transforming to Jacaranda
Hajime flips his shit. SUDDEN GREEN GLOW FROM THE BELT that shockwaves out
Tachibana returns home to find someone waiting for him and on his computer
It's Hirose's father, whom everyone thought was dead. Who has no plans to see his daughter despite that.
"My goal is to solve the mystery of why the Undead do not die, so that humans can escape the terror of death"
Cue flashback to SAYOKOOOOOOOO
"Joker is dangerous, and it's Kenzaki's fate to be involved in that."
Gives Tachibana the keyword to get into the whole of BOARD's records
"Fight fate" and he leaves.
And goes back to creepy lab to check up on his hitman. Whom he hugs.
Meanwhile, Kenzaki is sulking. Kotaro gives him a peptalk and breakfast and Kenzaki heads out to find Hajime. Just in time for the Searcher to have picked up 3 Undead.
There's now a big hole in the wall where Hajime had been held. But King still has his cards.
"I will never take that form again…"
Mutsuki shows up and throws Joker cards at Hajime before smirking like a tool
"So you've been totally absorbed by the Ace."
"Yeah. I'm in the Darkness. And it feels good. And there only needs to be one ruler of the darkness."
Mutsuki transforms and attacks. And then taunts him that he can't transform, trying to make him take Joker form.
Kenzaki smacks into him with his bike, breaking his transform.
"He's a cold hearted killer who just wants to defeat Undead!"
"Yeah, well, so are you!"
Kenzaki grabs Hajime and leaves.
Tells Hajime his one secret: the name of a girl he had a crush on.
"I don't care about your true form. To me, you're Aikawa Hajime."
Hajime confirms that Human Undead is sealed.
Tachibana is looking through Karasuma's private records.
Finds out that Rider System was made from Joker.
Back to Hajime talking about sealing Human Undead and how since getting that card, he doesn't want to take Joker form.
Hajime senses King, runs off with Kenzaki following.
King sicks his minon after Kenzaki, tries to take Hajime away, taunting him about having all his cards.
Hajime figures out why King can still move when time is stopped and grabs it, allowing Kenzaki to defeat the Time fuckery Undead.
King buggers off with Hajime's cards. Kenzaki helps Hajime get away.
"Aren't we friends?" "Are you sure you want to say that? My true form…" "Is Aikawa Hajime, right?"
Tachibana arrives to ruin the moment.
Explaining to Kenzaki what happens if Joker wins the Battle Fight
Kenzaki moves to protect Hajime, saying he believes in him.
"He won't destroy humanity, there must be another way!"
Debate via Battle!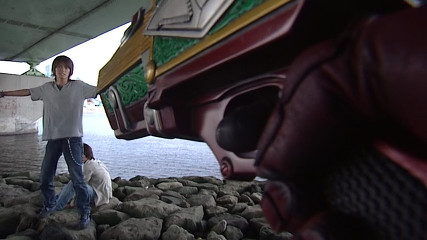 Episode Available from:
Subs: TV-N, Turn Up Scrubs
Raw: Bunny Hat
---
Major/Named characters introduced:
Undead Apperances:
Scarab Undead
Caucasus Undead (King)
Major events:
Hajime escapes King's captivity
Tachibana is given information about Joker

Screencaps